Manidhaneyam conducts entrance exam for a year and then admits all candidates whoever are applying for coaching in the next year. No one can say sure whether Manidhaneyam will conduct entrance exam by next year or not. But in 2019 they are accepting UPSC 2020 batch. This batch should write the entrance exam to get selected. So I think this post might be helpful for you.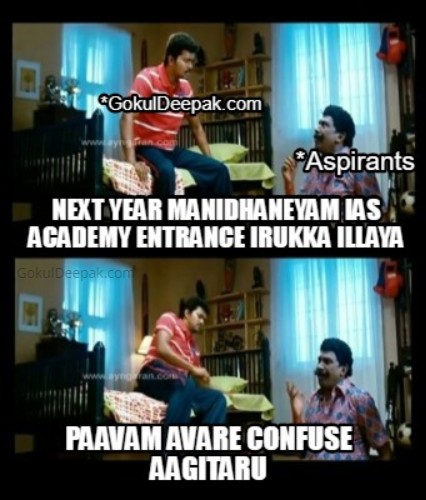 Manidhaneyam Entrance Exam Details:
There are some important details on the entrance exam for this year
Date of Exam: May 19, 2019
Everyone must appear for the Entrance Exam.
Students getting high marks will get Free Food, Free Accommodation, Free Classes.
Students who get more than cut off will get Free Classes only.
What would be the cut-off?
We can't predict that now. It all depends on how many students are they going to admit and the toughness of entrance exam. So will update cutoff after the entrance exam.
How many students will get Free Accommodation, Food?
No official details are available. But I would guess 100 aspirants can be given free food, accommodation.
Classes duration – Probably June/July 2019 – May 2020
Entrance Exam will have 100 questions. Given 2 hours time. No Negative Marks. 60Questions from GS 1 and 40 questions from CSAT.
Click on the link If you need more details on How to prepare for the Manidhaneyam Academy entrance exam.
Entrance Exam will be very easy. If it is difficult for you then remember it will be difficult for everyone as all of you guys are just novice and started preparing after finishing college.
Exam Checklist:
Should bring original and a photocopy of any valid Identity card (ID card with photo)
Driving Licence, Aadhar Card, PAN Card, Voters ID, etc
Blue/Black Ball Point Pen.
Hall Ticket. Available for download after May 10 2019.
To get updates on Manidhaneyam and AICSCC subscribe to our mail list..