Disclaimer: This post is not for toppers. This post is especially for Average students like me who don't know these 10 tips on How to Read Effectively and think themselves affected by dyslexia. Who are keen at learning when they hear or see but can't learn easily by reading.
From my childhood, I fear for reading. Whenever I open up a book I would sleep. Words start to dance before me whenever I see texts. Even It may be Tamil or English I hate to read. My Mom would think I'm not focusing while reading. But I used to get good marks just by concentrating in classes. Up to my 12th grade, I haven't read any books without strain apart from my textbook, Which I will read hardly.
Later I came to know about reading disability within me and started to work to rectify it. From College days I started to work for it. Anyhow I enjoyed my college days rather than reading a lot. Later When I enter into UPSC Classes I can't just manage to answer just by listening to classes. I need to read Newspaper and some extensive reading for Political Science. So I was cornered to read. Started to train my brain. Here I'm writing How to Read Effectively and How I'm struggling to overcome my difficulties.
10 Tips on How to Read Effectively:
Methods I'm listing here were inspired from different persons I have met in my life. Yet I'm not a champ in reading. Anyhow I managed to improve from zero books for 18 years to 5 books in a year. Yes, I do know this is not a great thing. But I consider I'm overcoming my reading disability which I have never expected I would do it.
I do know that even reading this article may be difficult for you. Tips for you: Just read the heading and apply it while reading a book or news article.
1. Curiosity:
Meditate or wash your face and start to read freshly. Tell your mind you are going to learn something new. Expect something from the book or article before reading. That will make curiosity and will involve us more to read. This is just to teach our mind to be active while reading.
2. Need Not Read the Whole Book:
Some people use to collect many books just because they can't control the desire when they see the book title in the store or exhibition. After buying that book it would sleep in the bookshelf. This will make more guilt and avoid buying more books. Remember it is not mandated to read all chapters. The first step to read the book is by its content. If you think any of the content will be helpful then just read it first. But this won't help for Novels. Don't feel guilty if you have read only selected chapters in a book.
3. Never Touch a Book Without Pen:
Always use Pen or Pencil or Highlighters to read the Book. Underline Important words and phrases. No one can remember a whole. While searching for some information or revising we need to have underlined to make it easy.  Also, it is not only for underlining or highlighting. Sometimes you can also intract with the author. You can write a question that sparkled in your mind while reading it.
4. Read the Whole Paragraph Before Underlining:
While reading I use to underline important points. Finally, I end up like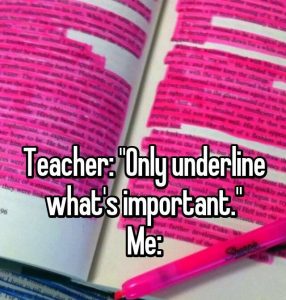 So Before Underlining read the paragraph completely and then underline some important phrases so you can avoid messing up.
5. Read Loud:
Reading Loud will be beneficial as it won't disturb your mind and will give more focus. People like me often used to remember what we hear. So reading loud is doubly useful. Increase memory and concentration. But it will slow down the process of reading. Often I used to get distracted and will start to ride my mind horse. When calculating total hours used for reading this method will work better. Slow and steady wins the race.
6. Circle Difficult Vocabularies:
No one knows the meaning of all words. The more difficult words the more we can learn. Previously referring to Oxford dictionaries need much effort and consumed much time. But nowadays mobile and internet reduced that effort. Circle the difficult word and note down the meaning. I also used to write it in a notebook. So It would be easy for me to revise as I'm very weak in English vocabulary.
7. Explain What you Read:
After reading a paragraph or some heading run it on the mind. Comprehend it like you are about to teach this to someone. So that you will understand it more clearly. You can speak to yourself about that topic.
8. Summarize the Contents:
This is same as the last tip. While you need to Explain you have to summarize the content. Think that the author deals about pros and cons of nuclear energy. You should not just remember the conclusion brought down by the writer but should try to summarize the contents so that you will get a clear understanding. Later if there is a new happening you can update it in your mind and change your decision based on the summarized content.
9. Repeat Revise Remember:
While reading textbooks or technical books use this method. To remember things just go for fast skimming in the first reading. Go for a read in the second time. Take notes or underline during third reading. Just like our Indian Parliament's lawmaking procedure. Even when you read Harry Potter or Ponniyin Selvan you will explore new things when reading for the second and Third time.
10. Read Book on How To Read:
This sounds funny to me too but many people say it worked for them. 10 tips on How to read effectively has one tip to read a book.
Major Suggested book on this topic is: How to Read the Book – By Mortimer J. Adler
Hope these 10 tips on how to read effectively will help you too.