AICSCC has sent admission letter to candidates who have cleared entrance exam. Since there are a lot of changes in the process of admission I'm posting the admission letter. Some of the aspirants have also complained that they haven't received any letters through the post from AICSCC even though they have cleared the entrance. In such case please contact AICSCC as soon as possible. There may be a problem with the postal department. Here I'm posting AICSCC 2017-18 Batch Admission Details.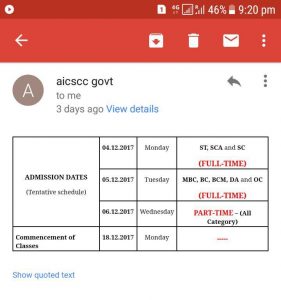 AICSCC 2017-18 Batch Admission Details:
Remember: If someone misses this admission or doesn't prefer to join, AICSCC will come with the second list. So if you were nearer to the cutoff score you can expect to be selected in the second list. But that depends on your luck.
Certificate Verification will be held in AICSCC, Greenways Road, Chennai.
Certificates to be brought on the day: 10th or 12th Mark statement, Degree or Provisional Certificate, Community Certificate, Nativity Certificate or Photocopy of Ration Card, Passport Size Photos – 4(They may also ask for Stamp size photos to paste in id card), Differently abled certificate (If applicable)
 Certificates mentioned above should be original except ration card.
Fees: ₹6000; only ₹3000 will be refunded (New Rule) while the old rule is: Only OC candidates should pay ₹6000 out of which ₹3000 is refundable and for SC/BC/ST/BC(M)/DA – only ₹3000 and ₹3000 is refundable.
Do not send Father or Mother or Brother for admission. You should be present without fail. Anyhow you can bring parents with you.
Hostel will be available from 17 December 2017 11:00 AM
Classes Starts from 18 December 2017 10:30 AM
Admission Dates: 
| | | |
| --- | --- | --- |
| 04 December 2017 | Full Time | SC(A)/SC/ST |
| 05 December 2017 | Full Time | MBC/BC/BC(M)/DA/ OC |
| 06 December 2017 | Part Time | All Categories |
For more – AICSCC.