We are proud to say that we are the first website to release Answer Key for FCI 2015 Recruitment Examination.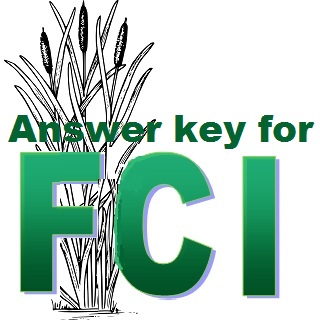 The recruitment zones for FCI were divided into four zones. North zone, South Zone, East zone, West zone and North East zone. I have received question paper from a student who have appeared in South zone. So I'm able to publish answer key for south zone alone. If you guys send me question paper for any other zones I would publish answer keys for that too.
Food Corporation of India:
Food Corporation of India (FCI) which is one of tha largest corporations in India was started on 14th January 1965. The rice bowl of south India is known to be Thanjavur. So the first district office was started at Thanjavur. Then they set up headquarters are at Chennai. each corporations have to established under some act passed by Indian Government. This corporation was established under the 'Food Corporations Act 1964'.  It has five zonal and 24 regional offices. This corporation is the 2nd largest supply chain management in Asia. This coprporation purchases 20% of India's wheat production and 15% of rice production every year. They make purchases directly from the farmers so that the farmers would get benifited and also the public. The rates to be paid to farmers will be declared by the Government of India. They can procure any volume of food crops. There is no limit for them. FCI stops food grain hoarding and it helps Indian government to uphold food security bill. I'm mentioning about Food corporation of India because you have to be proud to work in FCI. You will help farmers from private players who cheats uneducated farmers. If you are working in Chennai you would get quarters in SAF games village, Which is a location where elite groups live as colonies.
Question Analysis:
Such a significant corporation had conducted examination for recruitment of  Junior Engineer (JE) (Civil Engineering / Electrical Engineering / Mechanical Engineering), Assistant Grade-II (Hindi), Typist (Hindi) and Assistant Grade-III (General / Accounts / Technical / Depot) on August 2 2015 (02/08/15). Even though we are applying through the south zone the question paper was in English and in Hindi and not in our language. The questions are from Quantitative Aptitude, Data analysis, Verbal and Non Verbal Reasoning, Computer Proficiency, English Language, General awareness, General Intelligence, Current Events. Numerical Ability, Data Interpretation. Current Events were from the year 2014. I guess they might have framed this question before an year. You should have read Yojana to answer these questions. The questions in computer science were bit difficult than other competitive exams. Since I'm not an engineer I have applied for the post of Assistant Grade (General) and so uploaded key for that question paper. This is Paper – I, Time allowed: 90 Minutes, Number of Questions: 120. This question paper is common for JE Civil engineering, JE Electrical engineering, AG-III (General), AG-III (Accounts), AG-III (Technical), AG-III (Depot). There may be some errors in the answer key. If you find any wrong answers or any contradicting answers please inform us so that all may get benefited. Esp in English. I'm not sure about answer 101 where militant and anarchist since both appears to be disturbing the order of state.
Answer Key for FCI 2015 (South Zone):
Click here to Download Answer Key for FCI 2015 [File size: 2MB] ##Low Quality Scanning##
Click here to Download Answer Key for FCI 2015 [File size: 6.2MB] ##High Quality Scanning##
Click here to Download Question Paper for FCI 2015 [File Size: 2.6 MB]
1st Amendment: 
99. to tolerate any delay
110. innings, runs
115. He behaves as if were a king. (Thanks to Kiran G and My Sister)