Frequently Asked Questions Regarding Manidhanaeyam Free IAS Coaching 2018.
Based on Questions asked to me more often.
Are you working in Manidhanaeyam Free IAS Academy?
No, I'm just an alumnus and trying to help rural and people out of Chennai.
Will Manidhaneyam Provide Free Coaching for the year 2018?
For the last 10 years, they are providing free coaching continuously. So yes, there will be coaching classes this year too.
How to Join in Manidhanaeyam?
Notification from Manidhanaeyam -> Fill Online Form -> Write Entrance Exam -> Get Selected -> Start going to Classes.
So will there be entrance exam?
Most Probably. But Mayor can shift his mind too. But 90% chances are there for an entrance exam to join in mnt.
When will they release Notification?
While contacting Manidhaneyam office they have said that they will release notification by the month of May 2018.
Can You say the date?
No one knows the Date. (Even Manidhaneyam office)
When will be the Entrance Exam?
Most Probably by the month of July 2018.
Is that sure?
No, There is Murphy's Law too.
I have already Registered in saidais.com(OTR). Is that enough?
No. Wait till notification comes.
How can I know if they have notified?
Regularly go through saidais.com (or) Subscribe to our Mail List (or) Like us on Facebook Page and get Notified.
Is there a way to Join by paying fees?
No, Manidhanaeyam Free IAS Academy is 100% free.
Will there be Part Time Classes?
Yes.
What is the Qualification?
If you are eligible to write UPSC Civil Services exam it is enough.
How to Prepare for Manidhaneyam Entrance Exam?
Please do not prepare for Manidhaneyam Entrance Exam. Start preparing for UPSC Civil Services Prelims Exam.
Is this only for TNPSC or UPSC?
Here I'm talking only about UPSC Civil Services Exam coaching. TNPSC Related questions can be asked in tnpscforum.com
I want to read Manidhaneyam Entrance Previous Year Question Paper offline
We have Included the feature in our Android App (GokulDeepak – A Basic Guide for UPSC). So now you can read the Previous year question papers and answer keys offline.
Are all year papers available in the App?
No, But 2017 and other years are available. 2013,14 Question papers are missing in the app. I have arranged persons to upload those missing question papers too. Expected to upload within 10 days.
I do have more Questions…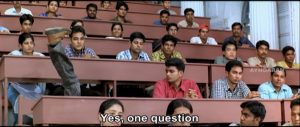 Please Ask in our Doubts Forum. Do not spam my Gmail inbox.