Classes for TNPSC group 2 exam in Manidhanaeyam has been announced because Tamil Nadu Public Service Commission(TNPSC) has notified for Combined Civil Services Examination–II (Group 2 Services) for 2014-16 on 30 April 2015 to fill 1241 posts. To read more about TNPSC notification click here.  The exam will be conducted as three stages (preliminary, mains, interview).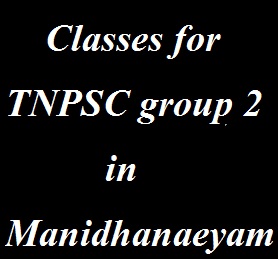 Saidai Duraisamy's Manidhanaeyam IAS academy, Chennai conducts free coaching classes for UPSC civil services exam, TNPSC group 1,2,3,4, Sub-inspector and various government competitive exams. Now  MNT (Manidhanaeyam IAS academy) announces free coaching classes for TNPSC Group II exam to be held on 26 July 2015. "Classes for TNPSC group 2 exam in Manidhanaeyam". currently, Manidhanaeyam provides free classes only for preliminary examination and once if you clear prelims then there are free classes for mains and interview too. To my knowledge(sources from notification published in saidais.com) academy doesn't provide any free hostel facility to students. contact Manidhanaeyam charitable trust, perhaps they may arrange.   Unlike Manidhanaeyam UPSC CSE coaching there won't be any entrance exam to shortlist candidates. So you can simply register in saidais.com and can join in classes.
Eligibility: (Who can apply?)
If you can apply for TNPSC group II exam you can apply for this coaching too. (Click here to see if you can apply for group II exam.)
How To Apply:
1) Fill One-Time registration form and get User ID and Password.
2) Fill Free coaching Registration for MNT-TNPSC Group 2 Prelims 2015  using that user ID and password fill the form.
Note: Before applying for coaching in saidais.com you should have applied for Group II exam in TNPSC website since you will be requested to enter TNPSC Group II registration number.
More question and answers about Free Classes for TNPSC group 2 exam in Manidhanaeyam IAS academy:
Is this coaching is given for free?
Yes, it is free.
Should I have to write any entrance Exam?
No, All registered students can attend the class.
I'm just a college goer or doing the final year, can I apply?
First you should have applied for Group 2 exam in TNPSC website to register in Manidhanaeyam. But TNPSC Official Notification says that "Candidates should possess the following or its equivalent Qualification on the date of this Notification. Viz. 30.04.2015." which means you should have completed degree on or before 30 April 2015. so check your degree with that date. If your degree certificate doesn't have a date prior to 30 April 2015 you can't apply.
Where will they conduct classes? Chennai or Madurai or any other cities?
I'm not sure. I guess classes will be only in Chennai, but it may also be in other cities. For the clear answer we have to wait for their intimation.
When will the Classes for TNPSC group 2 exam in Manidhanaeyam start/begin?
They will intimate you or stay with our website.
——————————————————————————————————–
Other important links:
-> Read TNPSC group 2 notification
-> Read more about Manidhanaeyam IAS academy / Frequently asked questions on Manidhanaeyam
-> Books to buy for TNPSC group 2
-> Previous Year TNPSC group 2 Question Papers
Like our Saidai Sa. Duraisamy's Manidhanaeyam IAS Academy fan page in facebook to get updates on Manidhanaeyam