Saidaiduraisamy's Manidhanaeyam IAS academy announces to give free coaching class for upcoming TNPSC Group 1 Exam. This is the 3rd  free coaching in Manidhanaeyam IAS Academy for TNPSC group 1.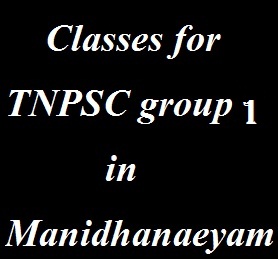 TNPSC Group 1 Notification was published on July 10, 2015 and The Manidhanaeyam IAS Academy has published its notification for free classes today.
Classes are 100% free.
Is there Entrance Exam to join in Classes? No Entrance Exam. All registered candidates will get free coaching.
Qualification to join in Manidhanaeyam: No basic qualification required  to join Manidhanaeyam IAS Academy for TNPSC group 1.
What is the Qualification to apply for TNPSC Group 1? Any Degree.
Can Final Year college students join in this academy? Yes. Manidhanaeyam asks for no other details regarding qualification, so you can opt for weekend classes.
Where will be the classes conducted? i) Saidapet, ii)AnnaNagar.
When will the classes get started? Nobody knows. They will intimate you through mobile number or email address. Better you register with our mail list to get updates.
Will they conduct classes in any district other than Chennai?  Officially they have asked only for two locations in form within them we have to choose one place. So probably classes will be within Chennai only.
What is the Class Timing? There are Regular Batch and Weekend Batch. Timing for those batches will be informed later.
Will they provide me free or paid accommodation? To my knowledge, No they won't provide free accommodation and food until you clear prelims .
How to Apply?  go to saidais.com —> Click on register for one time registration. —> You will get a Login ID and Password through mail. —>Using that log in to this link (http://saidaiduraisamysmanidhaneyam.com/ApplicationForms/ApplicationFormTNPSC_2015_G1.aspx) —> You will be asked to submit your basic details like Name, Mobile Number, E-mail id, Current District, Location for classes, Class Schedule. after filling this you have successfully registered.
Click here to register with us in our mail list for more Details.
Books to Buy for TNPSC Group 1 Preparation
Click Here To know More about Manidhanaeyam IAS Academy
Click Here if you have many doubts about Manidhanaeyam IAS Academy