Let us start from the inception to know about All India Civil Service Coaching Centre. In 1966 Home Department had passed a Government order (G.O.) Ms. No.2315 on July 14, 1966 and established Pre-Examination Training Centre to train SC candidates to write Civil Services Examination. In 1971 Social Welfare Department had passed Government order (G.O.) Ms. No.730 on June 21, 1971 and established Special Training Institute to coach BC & MBC candidates. The government of TamilNadu felt that Why there should be two separate institutes for the same purpose. So they wanted to merge both the institutes and also wanted to give training to aspirants other than SC, ST, BC, MBC. So On February 2,
The government of TamilNadu felt that Why there should be two separate institutes for the same purpose. So they wanted to merge both the institutes and also wanted to give training to aspirants other than SC, ST, BC, MBC. So On February 2, 2000 a Government Order (GO) Number 7 was passed by Backward Classes, Most Backward Classes and Minorities Welfare (BC 2) Department to merge both the institutes and the merged institution to be renamed as All India Civil Services Coaching Centre. And ordered that this All India Civil Service Centre would function under the 3 Director & Director General of Training, Anna Institute of Management from February 2000. And so this newly merged Institute (All India Civil Service Coaching Centre) would give free coaching to aspirants who aspire for Civil Services Examinations, conducted by the UPSC, New Delhi. The aspirants from all categories will be given coaching and there will be reservation for BC, MBC, SC, ST candidates. The coaching will be for Preliminary Level, Main Examination and Interview.
Fees:
Full-Time Students:
Before 2013 they collected fees from some aspirants on basis of parents monthly income and category but from 2013 food and hostel are free even though we have to pay a deposit of Rs.3000 which will be refunded after the completion of prelims. If we fail to appear in UPSC Preliminary exam I doubt we won't get the refund.
Part Time Students:
Rs. 6000 has to be paid while joining and Rs. 3000 will be refunded after the completion of Preliminary Exam however you must have appeared for Preliminary Exam conducted by UPSC. So Remaining Rs. 3000 is considered as fees for the course. Part Time students cannot reside in the hostel. They won't provide foods too.
Number Of Students:
All India Civil Service Coaching Centre Will not give free coaching like Saidai Duraisamy's Manidhanaeyam IAS Academy but the quality of coaching, the study circle formed within students residing there, free hostel facility makes this to rank higher. But there is a constant increase in the number of aspirants selected for coaching. Before 2014 only 200 students for full-time classes and 100 students for part time classes were selected for coaching but now they have increased the number to 225 and 100 students for full time and part time classes respectively.
Full time (Residential): SC -92, SC (Arunthathiyinar) -18, ST – 3, MBC – 40, BC – 54, BC(M) – 7, Differently Abled – 7, General Category – 4
Total – 225 Candidates
Part-time (Non-residential): SC – 41, SC (Arunthathiyinar) – 8, ST – 1, MBC – 18, BC – 24, BC(M) – 3, Differently Abled – 3, General Categorys – 2
Total -100
Coaching Classes:
All India Civil Service Coaching Centre will conduct coaching for three types of Exams.
Preliminary Exam:
AICSCC will give preliminary coaching annually for aspirants who cleared the entrance examination conducted by the institute in the month of November. (Click here to read the Previous Year question Papers of AICSCC). The number of students ratio given above is for this coaching classes only.
Mains Examination:
Those who have cleared Preliminary exam conducted by UPSC are eligible to attend this class. Priority will be given to students who have studied preliminary classes in AICSCC. But other students can also apply for this class and the selected candidates will be given Rs. 6000 as a stipend. If you have studied prelims classes in AICSCC and have cleared Prelims you would be given extra Rs.3000.
Mock Interview:
The Institute will conduct mock Interviews for the candidates who come out successfully in the Main Examination. These mock interviews will be conducted before 15 days to the date of interview at New Delhi by UPSC. The candidates who take classes for Mock interview are permitted to stay at Tamilnadu House, New Delhi on cheap rates (probably free I guess).
Quality of Classes:
As I have said already you cannot question the quality of All India Civil Service Coaching Centre as this is one of the top 5 institutes in India. The quality of the Institution makes all aspirants fight hard in the entrance exam and thus makes the entrance exam difficult.
Hostel Facility:
The hostel facility is very good in AICSCC but there is a major problem which is common in Chennai. Yes, your guess is right there is a water scarcity. So there will be limited time for water supply and within that, we have to save it in some buckets to adjust the day within the limit. If you are a person who wants to bath twice a day think twice before joining. Other than this there is no other problem.
Facilities:
AICSCC has a very good ambiance which is best suited for preparations. The institution is suited in green ways road where judges and ministers reside so you can imagine how the area will be. Lot of trees, neat road, road full of Posters greeting the Chief minister of Tamilnadu, Police centri etc. There is a park near by so that you can have a relaxing time too. The rooms will have good ventilation and will be spacious enough for 3 persons. Chairs, Tables, Cot will be there for free of cost. The institution has a good collection of books in their library. many books worth more than Rs. 2000 are available in AICSCC library and we can also take books from library to our room. Part Time students can also borrow the book from the library. Maximum of 5 books can be borrowed from the library. Apart from library and class room there are studying room, news reading room. Where in news reading room you can find a huge collection of newspapers. There is also a Television in this room so that you can get entertained if needed.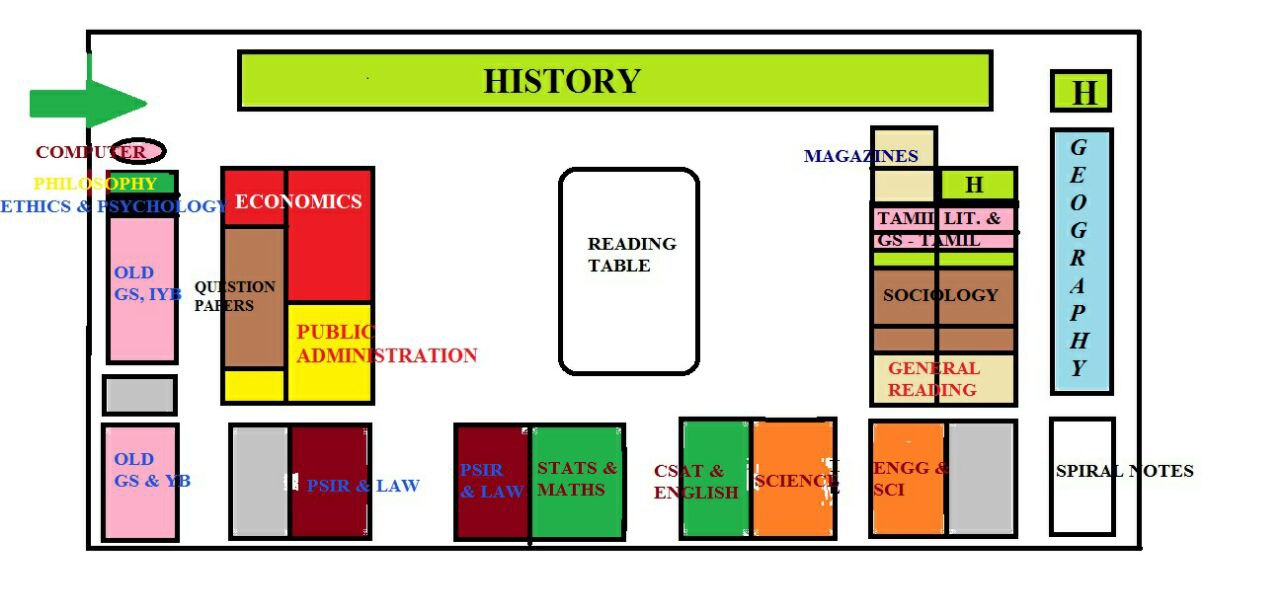 AICSCC Library Layout Credits: Sankar Selva
Computers:
In their official website, they claim that there are 15 computers with internet facility so that aspirants can get benefited. There are 15+ computers in AICSCC but we weren't allowed to use those facilities.
Contact Details:
All India Civil Services Coaching Centre,
163/1, "Kanchi" P.S. Kumarasamy Raja salai.
R. A Puram (Greenway's Road) Chennai – 28.
Phone No. 044-24621475 & 24621909
Telefax No. 044-24621909
How to reach AICSCC:
It is easy to reach AICSCC through train rather than bus. MRTS in Chennai which runs from Velachery to Chennai Beach station would stop at the green ways road station which is very nearer to the coaching institute. If you want to reach through bus then go to MGR Janaki Ammal College bus stop in Raja Annamalaipuram popularly called as RA Puram..
Click here to visit AICSCC's official Website
Click here to read more facts on AICSCC
Related Posts: