Before looking at Free Coaching Institutes for UPSC exam preparation in Chennai and TamilNadu, let us know why there is a need for free coaching. Now TamilNadu might have a lot of Engineers than farmers I guess. Due to unbalanced human resource skill developments, there is an unemployment situation in overall India, especially in Tamil Nadu. There is no enough number of software companies to give employment to them So a lot of them are running towards competitive exams. Especially UPSC, TNPSC, IBPS attracts lakhs of students. How to prepare for these competitive exams? should we go to a coaching centre or prepare by own will be the first question arising in their mind. After some suggestions from their parents, seniors, relatives, friends may think to join in a coaching institute if economic conditions of their family allow them to do. To get coaching for these competitive exams where can we go? will be the next question for them.
How to Choose Coaching Institutes:
Location:
If you do not belong to Chennai you may have limited options in your own locality.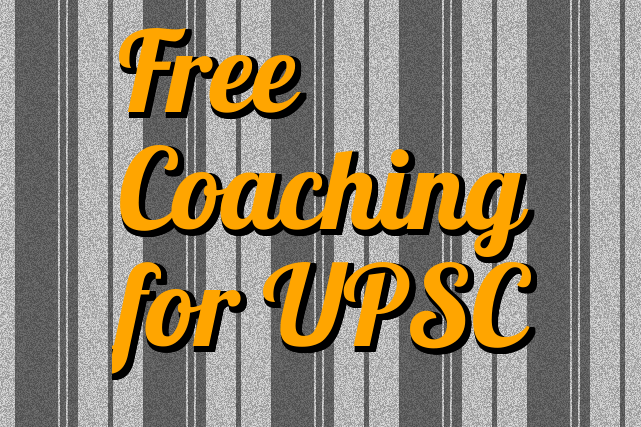 But I'm damn sure preparing from your own locality may need more hard work than preparing from Chennai. There will be a lot of things to deviate you from the hardcore preparation. Books you need to buy may not be available in your village or town. Study circle which keeps fueling you will be hard to find in our own place. Family problems would give some burdens to us. There are many who overcame such troubles and cleared UPSC, but it is good to avoid such unnecessary problems if you have some money to invest in preparation. Just rush to Chennai and find a free institute.  
The list of Top 10 IAS Coaching Centre in Chennai
.
Institutes:
Because of the huge popularity made by newspapers, Many Students in Tamil Nadu and the other South Indian States are aware of Saidai Duraisamy's Manidhanaeyam IAS academy that gives free coaching for UPSC, TNPSC and other competitive exams by its trust Manidhanaeyam Arakattalai. Many of them are not aware of other institutes that provide free coaching for UPSC Civil Services coaching.
There are tons of Free Coaching Institutes for UPSC exam preparation I'm listing some of them that are familiar to aspirants. If you do know some other institutes which have reputation please comment below and help users.
Free Coaching Institutes for UPSC exam preparation in Chennai:
All India Civil Service Coaching Centre, Chennai
All India Civil Service Coaching Centre is run by Government of Tamilnadu and it will give free coaching to selected candidates. It has two streams of classes. Full-time coaching is the residential type of coaching and aspirants will be given room at hostel and food for free of cost. There will be a reservation based selection and candidates belonging to SC, ST, SC(A), BC, MBC, BC(M) will be given 100% free classes, boarding and food but a deposit amount of Rs.3000 has to be paid which is refundable. Other category aspirants must pay Rs.1000 one time for the complete course.  
Click here for their Official Website.
Saidai Duraisamy's Manidhanaeyam Free IAS Academy, Chennai
The best know academy. It gives free coaching to aspirants. Aspirants were selected through entrance exam. For the year 2015, they haven't conducted entrance exam instead they are giving coaching to all students who have applied for. They won't provide free boarding until you clear UPSC prelims. 
Click here for their Official Website.
Queen Mary's College, Chennai – For Women
Only female candidates will be given coaching at the evening hours in this college. Students who don't study at Queen Mary's college can also join. They will notify only via Dinamani newspaper and no communication will be there through online. They won't attend the calls too. so it is very difficult to get details about notification, class timings etc.
Click here for their Official Website.
Rich India
Run By the famous Rich India groups. For crediting their founder, they named it as Arul Bodhi Free IAS and IPS academy. No need of Entrance Exam to get free coaching. Just sign up and join. There will be classes at Kodambakkam and you will get study groups based on your skill. You can discuss, practice for descriptive writings, lecture with those small groups.
Click here for their Official Website(Currently attacked by malware).
SRM University
Classes will be conducted in Air Conditioned room. I'm not sure about its quality of classes.
Click here for their Official Website.
Crescent IAS academy, Chennai
Click here for their Official Website
Free Coaching Institutes for UPSC exam preparation in TamilNadu:
Free Coaching Institutes for UPSC exam preparation in rest of Tamilnadu is very limited. There are only two in the list.
 Madurai Kamaraj University – Youth Welfare Department
They would conduct entrance exam for this coaching centre by October. This institute comes under Anna Management and so All India Civil Service Coaching Centre faculties will be visiting this academy for guest lectures.
Bharathiyar University, Coimbatore – Anna Centenary Civil Services Coaching Academy
This coaching institute comes under Anna Institute of Management which funds the AICSCC. They provide residence too.
Sigaram IAS Academy
This IAS academy provides free coaching for all aspirants from Tamilnadu. Probably special importance would be given to Kongu area. They provide financial aid for coaching, residence, and food. You will be given coaching by Shankar IAS academy. They maintain a very good transparent system of selection process available in their website.
Madurai Meenakshi College – For women
Have to clear Entrance Exam to Join. There will be an interview too. Only women graduates can join in this coaching centre.