Explanation in detail on how to join Manidhaneyam IAS Academy for UPSC Prelims. I'm writing this for college students and some entry level aspirants who constantly asking this repeated question.
UPSC Coaching Schedules:
In this article, I'm Explaining only about coaching for UPSC Civil Service Exam Prelims. Normally UPSC Prelims coaching in Manidhaneyam will be for 8-10 months. Starting from July and ends by April. They will separate batches depending on the marks scored in the entrance exam. But for last 2 years, there is no entrance exam. So aspirants were grouped based on their academic scores. approximately 4-5 batches will be grouped. Classes will be conducted in Manidhaneyam classroom at Anna nagar. Some extra students will be grouped with batches at Amma arangam, Anna Nagar.
Commencement of Classes: Classes will start by July.
How to Join Manidhaneyam:
You can apply for Manidhaneyam through online portal only. Officially there are no options for offline application. Applying online is a easy process but some of the aspirants can't understand it. Manidhaneyam has steps similar to TNPSC but with less documentation. That is the main reason for this confusion among some rural based aspirants.
How to Apply:
This is the very crucial part in applying. You can apply only when Manidhaneyam releases its notification for the commencement of classes. After publishing notification you can look at a separate link for applying to UPSC Prelims coaching. Remember registering in One Time Registration in saidais.com is not the one step procedure to apply for Maidhaneyam coaching classes.
Look at the above screenshot. That was not the correct link to apply for. The registration link to join in Manidhaneyam will be active only during the notified period that is by May-June. You can read our previous post on how to apply for Manidhaneyam IAS coaching in a step by step procedure.
So what is that Free Online Registration is for? It is just a One Time Registration which gives you a user id and a password which you can use that nowhere. That registration was active before 3 years but now one-time registration is not needed. So my dear new aspirants please don't say you have registered for Manidhaneyam classes after registering for One Time Registration. To join Manidhaneyam you have registered in a dedicated link like the screenshot given below.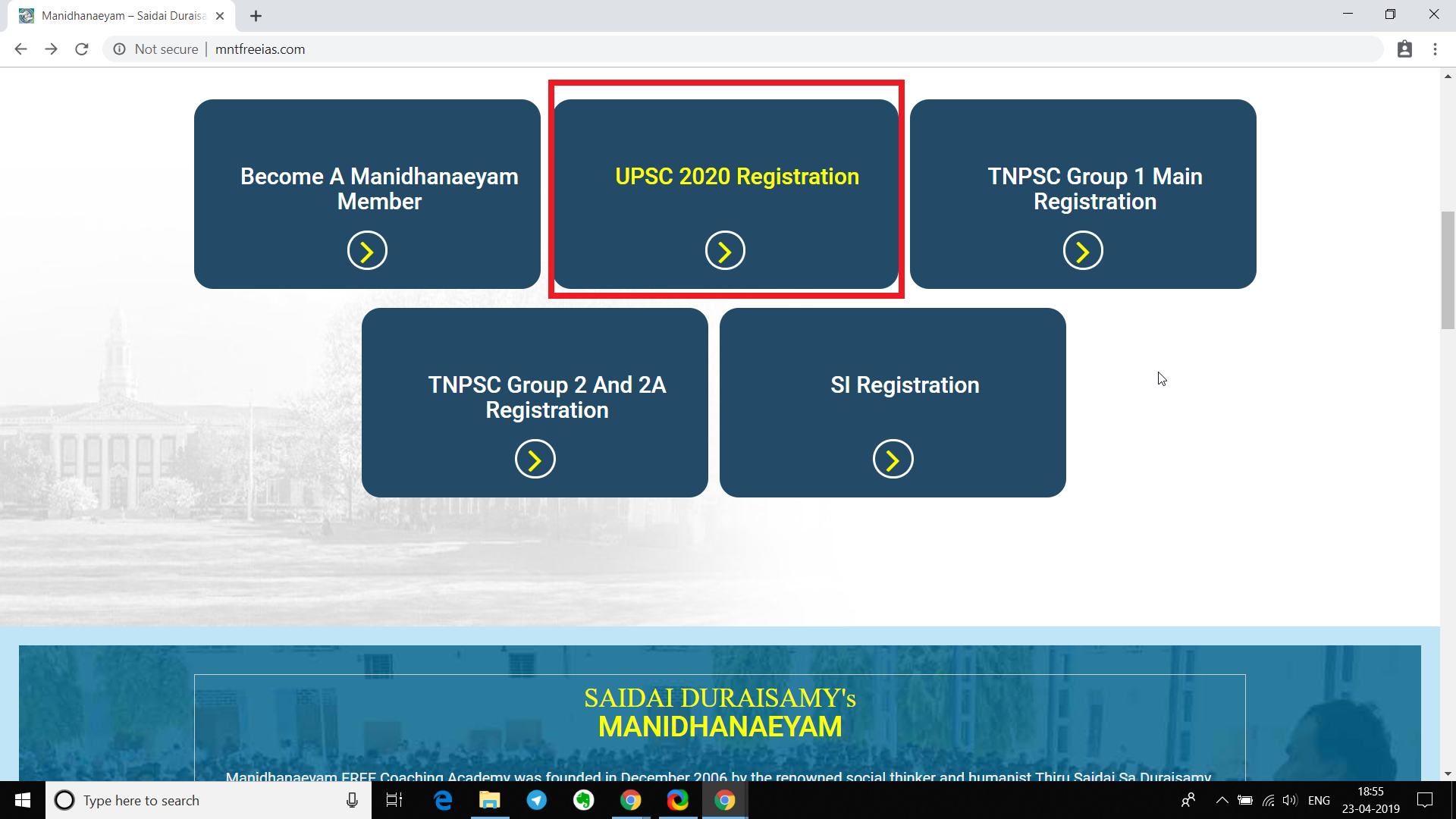 Finished applying to join Manidhaneyam? then start to read what to study before joining Manidhaneyam IAS Academy. This is the right time to start preparing for.
You may find these links useful:
Comment below if you have more doubts. If you find any mistake just [email protected]..