Notification for STI, Chennai (State Training Institute) is announced.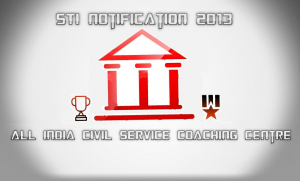 I was waiting keenly for this notification like you. STI has changed its name as All India Civil Service Coaching centre (AICSCC). Last year when I entered into the life of civil service aspirant this coaching centre was located at 2nd Avenue, Anna Nagar. Now it has been moved to Greenways road. I'm not sure about the facility provided by them. But I'm sharing what I have read in blogs and official website. If any of you has heard reviews from senior who have studied there, please share with us.
Notification For STI 2013:
There are two batches. They are Full Time and Part Time. If you opt for residential you will be given hostel and food for free of cost. If you opt for Part-time classes they won't provide hostel and food. You can't choose these batches after getting selected. you have to choose these while applying itself. So be aware while applying.
Vacancy:
Residential : 200 candidates.
Non Residential : 100 candidates.
Eligibility:
Educational Qualification required is Any Degree from a recognised University
Age limit (as on August 1, 2014) :
Minimum: 21 years for all candidates
Minimum: 21 years for all candidates
Maximum: 30 years for General Candidates
Fees:
(a) Full time (Residential)"Other Community" students of residential streams will have to pay a tuition fee
of Rs. 1000/- only for the entire course.
(b) Part  time (Non – Residential)Candidates, selected for the part-time course are not eligible for hostel
accommodation and have to pay a nominal tuition fee of Rs. 3,000/- only for the entire course. Part-time
classes will be conducted on Weekdays (6.30 p.m. to 8.30 p.m.) and Saturday & Sunday.
Examination:
Entrance Examination Centres: Chennai, Chidambaram, Coimbatore, Dharmapuri, Madurai, Salem,
Sivagangai, Thanjavur, Tiruchirappalli, Thirunelveli, and Vellore (Choose any one of the Centres)
Entrance Examination Pattern:
Eligible candidates will have to appear for an Entrance Examination for two hours with Objective type questions
on History of India and Indian National Movement, India and World Geography, Indian Polity and Governance,
Economic and Social Development, General Science, Current Events, General issues on Environmental Ecology,
Bio-diversity and Climate change, Basic Numeracy, Logical reasoning, General mental ability and Comprehension
Related Posts:
All India Civil Service Coaching Centre Entrance Exam Question Paper 2013 with Answer Key
All India Civil Service Coaching Centre Entrance Exam Question Paper 2014 with Answer Key
All India Civil Service Coaching Centre Entrance Exam Question Paper 2015 with Answer Key
All India Civil Service Coaching Centre Entrance Exam Question Paper 2016 with Answer Key
How to Prepare for All India Civil Service Coaching Centre Entrance Examination
About All India Civil Service Coaching Centre
Other Top 10 IAS Institutes in Chennai
Free IAS Coaching Institutes in Chennai and Tamil Nadu
The complete Book list to read for UPSC Exam is available here