Manidhanaeyam result 2014 is published. T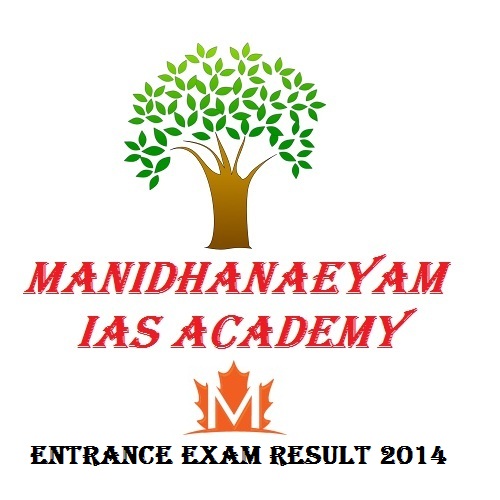 he candidates with the following Roll numbers have been provisionally selected for the FREE Civil Services Preliminary examination 2015 coaching conducted by Saidai Duraisamy's Manidhanaeyam Free IAS academy, run by Manidhanaeyam Charitable trust, Chennai.
The inauguration for the FREE civil services coaching Programme will be on August 31, 2014.
Result Analysis:
More than 1000 aspirants have been selected for Manidhanaeyam coaching. The students opt for full time courses or part time courses according to their convenient. You may wonder how these much of students were selected and if there is going to be any interview. But the answer is no. this is the final exam and all who have passed will be given admission. There won't be any second list like
All India Civil Service Coaching Centre
.
If (Your Roll Number is in the list)
->Congrats for getting selected through this mini-competitive exam (Manidhanaeyam Result 2014).
->They haven't mentioned anything about Certificates/Documents to be produced. At least have SSLC/HSC Mark statement, 2 Passport size Photograph with u.
-> Please Enter your approximate mark according to our Answer key in the comment section so that we can analyse about the cutoff.
Else
-> Don't worry if your number is not in this list. There are some other institutes which provide free coaching. The Quality of those institutes is also good. Especially All India Civil Service Coaching Centre is the best if you are from Tamil Nadu.
Click here to know more about AICSCC
.
Frequently asked questions:
1) When can we join in Manidhanaeyam?
Since you have passed the exam you are now the student of Mandihanaeyam but getting ID card will leave you inside the class.
2) When Can I get my ID card?
They would ask us to come for certificate verification. On that day, you can collect your ID card with official seal in it.
3) When will the classes in Manidhanaeyam starts?
The classes in Manidhanaeyam IAS academy will be started only after 2 weeks. Before that, you will have certificate verification and orientation programme.
4) What are all the certificates that I must bring?
Degree Certificate/Provisional Certificate, SSLC/HSC mark sheet, 2 Passport size photograph, 1 stamp size photograph to be pasted in the identity card.
5) When will they conduct Certificate Verification?